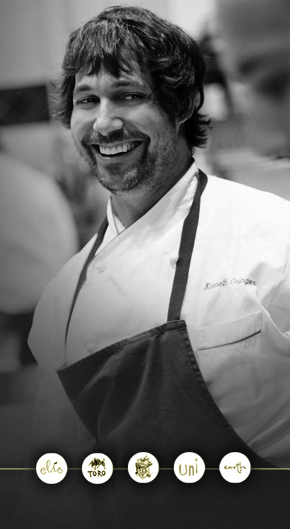 Ken Oringer is one of the hottest names in Boston's culinary scene and next month, he'll join us for an exclusive Fireside Chat. With a list of accolades as impressive as his menus and a smile as big as his passion for food, Chef Oringer tops the list of most beloved chefs in the city. Here, we sat down with Ken for a rapid-fire style interview about his love of Boston and his culinary role models, passions and inspirations.
When did you first decide you wanted to be a chef?
I was about 6 years old. My parents always encouraged an adventurous palette, they'd take us to Greek festivals, Chinatown, you name it. I was watching whole-roasted animals being roasted, trying new things. And of course, tuning into Julia Child on TV.
What inspired you to establish your brand in Boston?
I went to business school in New England and worked with Chef Jean Georges. Boston is such an amazing international city and offers amazing ingredients being right near the ocean. I'd already had some culinary experience in NYC and San Francisco, so returning to Boston seemed like the right place to start things off.
What's the secret to connecting with people through food?
It's all about loving what you do and enjoying the interaction with whoever you're cooking for.
Favorite ingredient?
Soy sauce. Especially outside of Asian cooking.
Favorite foodie city?
Can I call a tie? It's definitely a tie between San Sebastien and Tokyo.
Describe your experience on Iron Chef.
A thrill like I've never experienced.
What are your plans for expansion?
Uhhh…we'll see where life takes us!
What's your favorite kind of food to cook?
Italian, Asian, etc. Whatever I'm in the mood for. That's why its so nice to have a bunch of different restaurants. We also play with crossover ingredients from each cuisine, which keeps things interesting.
What's your wife Celine's favorite thing you cook for her?
Indian vegetarian stews
Who are your culinary role models?
Jacques Pepin, Jean Georges and Michel Bras
What's your hands-down, absolute favorite thing to eat in Boston?
Curry Chicken Roti from Ali's Roti Restaurant, a Trinidadian spot
What's your perfect night on the town?
Rosé on the deck at Toro, Island Creek for oysters + cocktails, then ending up at any number of my buddies restaurants, say Blue Dragon or Tavern Road.
Three words that describe your life in Boston.
Pretty damn nice.
What are your other passions?
Spending as much time as I can with my kids. Lately, I'm teaching them how to play soccer. I also love reading and bike riding.