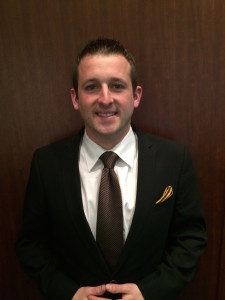 If you love talking sports, he's your guy. Meet your friendly Club Concierge, Joseph Gabriele. He's a football fanatic from the small, tight-knit town of Abington who understands the significance of friends and family and the importance of sharing a strong sense of community. Read on to learn more about Joseph and how his love for camaraderie has made him one of Millennium Place's most valued team members.
1. How did you get into luxury hospitality?
I was bartending for about a year after graduating with my business degree when a friend offered me the opportunity to get involved with Millennium. It just seemed like a natural fit. My love for people and the idea of providing a unique luxury experience in my home city was something that really resonated with me.
2. What do you like most about working at Millennium Place?
The La Vie program. From a young age, I've always had a passion for bringing people together. To be part of a program whose goal is to immerse its residents, while building a strong sense of community within their city, really brings a smile to my face.
3. What's your go-to DTX restaurant?
Well, it depends on what I'm in the mood for. I'm always changing it up, looking for new spots to try, but if I had to pick one, it'd probably be Sip. Their menu offers a nice variety, from steak to sushi to pizza, so there's something for everyone.
4. What are your favorite things to do in Boston during the summer?
Anything that involves being outside. Whether it's enjoying dinner on the patio, hitting up Fenway for a Sox game, or going out on a harbor cruise, I'm there.
5. How has DTX transformed since you started working at Millennium Place?
Since I began working in Downtown Crossing three years ago, there has been a tremendous amount of development. I feel like every time I turn around, there's a new restaurant, hotel or retail space to check out. I'm proud to be a part of a company that's played a major role in changing the face of Downtown. It's an exciting time to be a Bostonian!