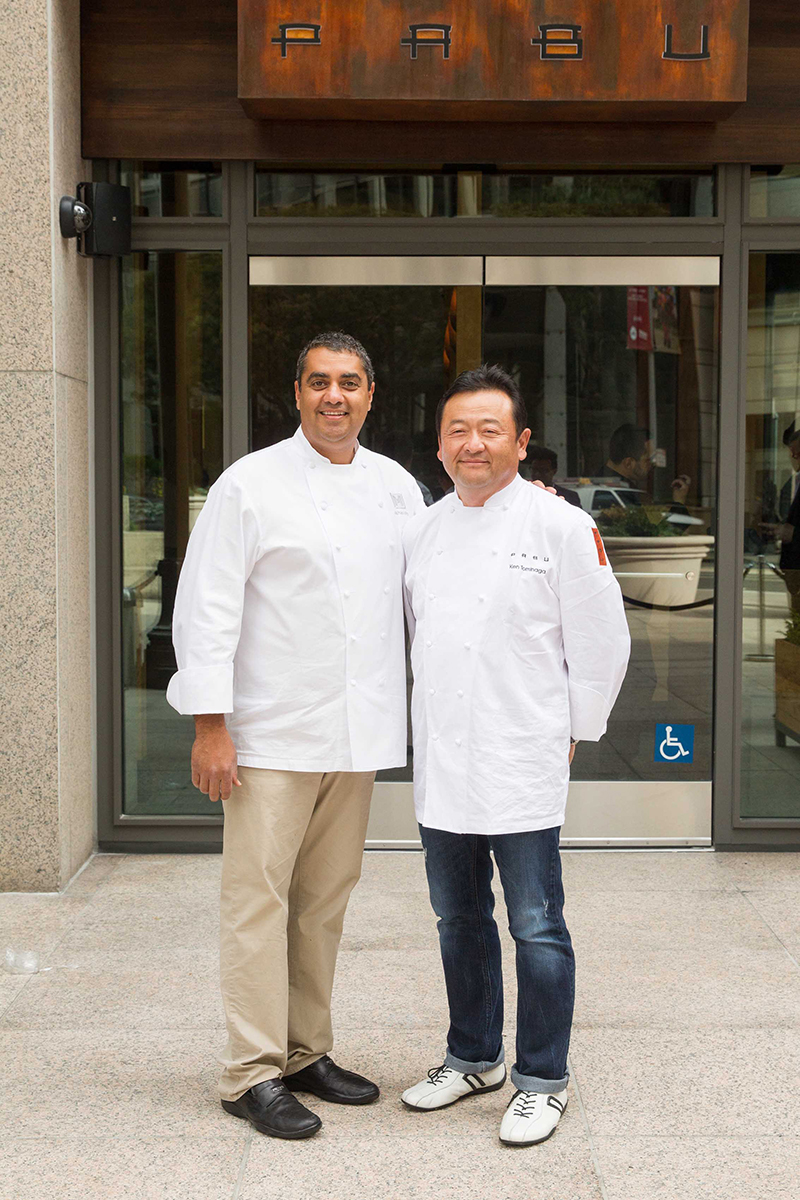 The most anticipated project in modern Boston history, Millennium Tower Boston is raising Downtown Boston to new heights—literally and figuratively. Along with James Beard Award-winning chef Michael Mina and renowned sushi chef Ken Tominaga, Millennium Partners announced Wednesday that PABU Boston open at Millennium Tower next fall. The modern izakaya and sushi bar will feature market-fresh menu with fish sourced locally from New England and flown in fresh from Japan's famous Tsukiji market.
"We're excited to be part of the transformation of Downtown Boston and for the opportunity to introduce our distinct style of dining and hospitality to the community and the residents of Millennium Tower Boston," said chef Michael Mina. "The restaurant is unique in that it will showcase a modern take on traditional izakaya-style dining with dishes that feature the highest quality products."
PABU will be Mina's first in New England. Mina boasts awards from the James Beard Foundation (often referred to as the "Oscars of Food"), operates a company that manages 18 different restaurants across the country, and has made several television appearances—including once as a judge on hit show Hell's Kitchen.
Future customers can expect a blend of old-world Japanese ambience with modern urban flair across the restaurant's two floors. For a coolly authentic experience, Bostonians will want to order from the omakase menu (Japanese for "I'll leave it to you"), a 16-dish chef's tasting menu that offers four different types of fish at a time with a sake pairing. "You feel great after eating it," Mina said.
Millennium Tower Boston, which is already 75% sold, is located at the former site of Filene's Department Store. When it opens in the summer of 2016, the 625-foot tower will feature 442 luxury residences with panoramic views of the city. Lower floors boast over 95,000 square feet of retail space as well. It's part of an on-going series of projects breathing new life into Downtown Boston.
"With PABU, the ongoing resurgence of Downtown Boston adds yet another new layer, providing the local community, city visitors, and residents of Millennium Tower Boston an exciting must-visit culinary destination in the heart of the city," explained Richard Baumert, one of the partners of Millennium Partners.
This past April, the Burnham Building development saw the opening of the upscale Roche Bros. regional grocery market. In the fall, Primark, a popular clothing retail chain from Europe will also be opening its doors at the Burnham.
The opening of PABU will certainly be a showstopper. As one of the hottest chefs in the country, Chef Mina's presence in Boston further solidifies downtown's place as the city's pulsing center.