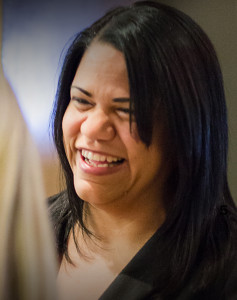 Before planting her roots here in what she considers the best city in the world, Club Concierge Jessica Martinez grew up in Puerto Rico until making the move to the states at 15. Having spent nearly an entire year volunteering around the city, she's developed quite a love for Boston and its community. Read on to learn how Jessica came to Millennium Place, her favorite things to do in Boston and what she's most looking forward to with La Vie this fall.
1. How did you get into luxury hospitality?
In Puerto Rico, I obtained an Airline and Tourism Certificate which led me to work in various hospitality and travel fields. I deviated from that for a bit and worked in the legal field until a friend offered me a job in a residential building. Interacting with residents everyday reminded me of what I love and inspired me to plant roots in hospitality. And here I am having a wonderful experience at Millennium Place.
2. What's "a day in the life" like at Millennium Place?
Every day is a new experience at Millennium Place. I'm always doing something different. One day I'm preparing coffee in the morning and setting up The Club for the day, and the next I'm helping a resident at the front desk, preparing popcorn for movie night or getting ready for a La Vie event. As a fellow coworker says, "There is never a dull day at Millennium Place." And I like it that way.
3. What are your favorite things to do in Boston in the fall?
I like going to events like comedy shows and the Pumpkin Festival in Worcester. But one of my favorite fall activities is going apple picking with my family—yes, I said apple picking. Seeing the trees so full of life and fruits in the orchard is lovely and the smell is so wonderful and relaxing. We can spend an entire day there. I recommend you do this at least once in your life.
4. What La Vie event are you most looking forward to this year?
We have so many wonderful events happening this fall—like the Fireside Chats with Barbara Cole Lee and Chef Ken Oringer, but the event I'm most looking forward to is actually our Mix & Mingle/Halloween Party. Everyone dressed up in imaginative costumes, I think it'll be a really fun night.
5. What are your other passions?
I'm an animal lover. And as residents with pets in our building have noticed, I'm crazy about their dogs. But I really love birds. Ever since I was young, I've been fascinated by their beauty. I'm also an avid Japanese Comic reader and a fanatic for Japanese animation.