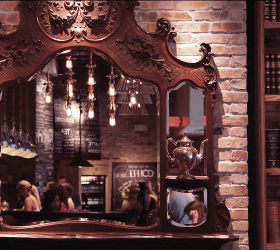 When Caffè Nero Founder Gerry Ford decided to bring his Pan-European brand to the United States, only one place came to mind. Having lived in Boston for some time, Gerry fell in love with the close-knit culture of the city, the vibrance of downtown and the comfort of finding solace from winter's bone in a warm coffee house. Then, he realized one afternoon that, while the city was drenched in coffee chains, those places lacked the intimacy of the European coffee house. And so, as in all affairs of the heart, Gerry wanted to spoil his love, and romance Boston with the attention it deserves.
Now, as we sip a chocolate-dusted cappuccino from a corner spot in Caffè Nero, we understand exactly what he was talking about. Read our interview with Gerry and get a behind-the-espresso-bar perspective on our new home away from home.
MP: What attracted you to Boston in the first place?
GF: I love Boston. I lived here as a graduate student and had a wonderful time. It's a beautiful, vibrant city full of culture and diversity. Additionally, Boston is on the move, developing several parts of the city like Seaport and Downtown Crossing. Boston also has an affinity for Europe, which makes it more likely that Caffè Nero, as a European/Italian coffee house, will connect with customers.
MP: What inspired you to open the first U.S. location at Millennium Place?
GF: After deciding on Boston, we wanted a location that would allow us to attract a diverse set of consumers. We wanted to test our offer with a residential community, the business community, students, tourists and even just passers-by. Millennium Place offered that and seemed a great opportunity to participate in the transformation of Downtown Crossing.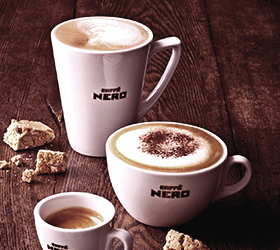 MP: How do you see Caffè Nero fitting into Downtown Crossing? 
GF: We want to be the neighborhood gathering spot. This is a place where people can sit and have our award-winning coffee roasted in our facility in Europe. They can also enjoy our food, much of which we make fresh daily on site, ranging from freshly baked croissants, to freshly made ciabatta and baguette sandwiches, to salads, to fantastic cakes and artisan desserts. We have a fireplace, chessboard and generally feel like somebody's living room. I hope people will use the store this way.
MP: What kind of special connection can Millennium Place residents look forward to with Caffè Nero?
GF: The residents have been drinking our brewed coffee in The Club before anyone else for the last 9 months. We also offer a loyalty discount for regulars. I'll be speaking at a Fireside Chat this fall and I really hope residents will see us as their home away from home.
MP: What European influences can be seen in the Boston location?
GF: First and foremost, our coffee is Italian style. It's similar to what you'd find in the streets of Rome. Also, our food has a European bent, with ciabatta sandwiches, mozzarella salads, prosciutto, Italian cheeses, baguettes, biscotti, and the list goes on. Additionally, a lot of the furniture you'll find has been brought over from Europe. Our back bar, for example, has been shipped from Strasbourg and is more than is 300 years old.
MP: Caffè Nero has a known commitment to sustainability. Can you elaborate?
GF: We work with Rainforest Alliance in sourcing our beans and our factory is certified for Fair Trade and Rainforest Alliance.
MP: Are any of your food or beverage items sourced locally?
GF: Yes. We're working with Nashoba Brook Bakery out of Concord. For those who don't know them, they're a wonderful artisan bakery and they provide us with fresh bread daily. We also get desserts from Leo's Bakery in South Boston, and we get our milk from High Lawn Dairy.
MP: What makes Caffè Nero so unique compared to U.S. coffee shops?
GF: I think our strong craftsmanship in coffee. We have a tremendous amount of expertise in our sourcing, blending and roasting. We also feel strongly about giving the customer a high quality experience through our fresh deli-like food, warm atmosphere and unusual decor. I think people feel really comfortable in our places.
MP: What are your plans for expansion in the United States?
GF: Well, we do plan on opening other stores, but we're not in any hurry. Our focus right now is on Boston. We want to open in several neighborhoods in the city and become part of the fabric of the community.